Airport, Ports + Logistics Services in Panama

Logistic Services in Panama
Much of logistics services in Panama has been developed to support international trade.  The logistics platform is organized into logistics business components.  Panama has a set of logistics components that have been working in an organic and coordinated system for almost a century. These components include seaports, airports, special economic zones, and a network that includes a transisthmian railroad, expressway, and roads geographically well positioned to be a hub for regional and international trade.
Currently, Panama's strategic location together with expanding and continuous development of infrastructure drive national and international stakeholders to look at Panama as a potential location to supply both North American and Latin American markets both via transshipment and as a hub for distribution.  Panama's high level of connectivity attracts investors and multinational corporations to the country.
Airports
Panama has one of the most advanced airport infrastructures in Latin America. Given its position, the Tocumen International Airport has become a hub for the Americas connecting North and South America, the Caribbean and Europe. Tocumen International Airport is home for COPA Airlines, the largest Panamanian Airline, and has more than 20 other actively operating airlines including Lufthansa, Air China, United, Turkish, Delta, American and more. The Tocumen International Airport is expanding at an unprecedented rate. Tocumen International Airport is the regional hub for several commercial and cargo airlines. It connects passengers and moves cargo to more than 34 countries and 84 destinations all around the world. .For connecting flights, there were approximately 9,163,998 passengers that used Tocumen International Airport in 2021, recovering 55% of the movement registered in 2019, prior to the pandemic, when 16,582,601 passengers passed. In 2020, levels of barely 30% had been reached. The cargo terminal itself handled over 21,401 tons of cargo in December and a total of 202,743 metric tons in all of 2021. 
The new terminal will provide more capacity to both passenger and cargo terminals allowing a larger number of aircrafts, cargo and passengers to use our country as a connecting point to the world.  It is the home port for Copa Airlines.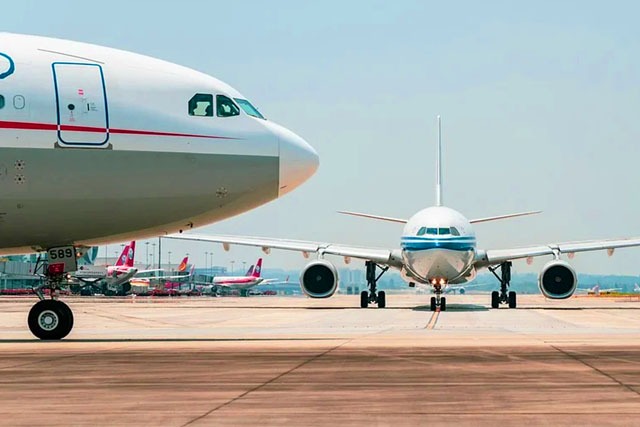 When concluded, the airport expansion will count with:
20 new gates

8 remote positionings

8000 sqm of commercial space and duty free

3000 sqm for VIP areas, and

New modern custom facilities
Regarding regional flights, the local network includes six more international airports, as well as 24 landing strips that allow passengers and a small volume of cargo to move around Panama easily and safely.
This cargo movement through air has prompted an unprecedented development of logistics parks and warehousing centers near the Tocumen airport.
The Tocumen International Airport Multimodal Zone is part of the airport expansion which aims to strengthen the airport´s strategy to modernize the cargo terminal and develop the first Cargo free trade zone. The surface of the first phase is 180.000 sq meters with the possibility of expanding to more than 300.000 sq meters of urbanized plots for the development of logistics warehouses. The Zone will be regulated under the same legal regime of Law 32 of 2011, which establishes legal regime for Free Trade Zones.
Ports in Panama
Panama has a network of state-of-the-art seaports that provide a variety of services to containerized, bulk, liquid and general cargo, as well as to passengers in cruise terminals.
Panama has several seaports in the Atlantic area mainly serving the East Coast of North and South America, and the Caribbean: Manzanillo International Terminal (MIT), Cristobal-Panama Ports Company (PPC), Colon Container Terminal (CCT) and Colon Port Terminal (CPT). At the Pacific area, the port of Balboa is currently the only terminal performing container's handling service. Both, Balboa and Cristobal are being operated by Panama Ports Company, members of the Hutchinson Port Holdings. A new container seaport is being under construction at the Balboa area by the name of PSA Panama International Terminal, as part of the Port of Singapore group.
Also, two additional ports provide commercial services to containerized cargo: Bocas Fruit Co. terminal at Almirante and Rambala terminal at Chiriqui Grande both located at the northwestern part of Panama in the province of Bocas del Toro. These ports handle bulk and general cargo, but the container segment is dedicated to the reefer liner service of banana exports.
There is one Cruise Terminal in the Atlantic of Panama named Colón 200 and the Amador Cruise Terminal, constructed by Chinese firm China Harbour (part of CCA Group), a brand-new terminal in the Pacific entrance of the Panama Canal.
A new generation of LNG Terminals are being developed by different companies. See our chapter on Petroleum Free Zones.
Logistic Parks
Panama has a large number of logistics assets providing logistics support to national and international markets. In 2019, the seaport cluster at both entrances of the canal handled over 7.3 million TEUs through the most important shipping lines. The air transportation platform has been developing during the last few years, where many industry players have established large scale operations by using Tocumen International Airport as a hub for passengers and cargo. Many expansion projects are under construction to expand even more the network of airports for international and domestic services.
Colon Free Zone and Panama Pacifico area are two examples of Special Invesment Regimes dedicated to merchandise reexporting and promoting high-tech activities leveraging the transport connectivity to other countries and a variety of fiscal, migratory and labor benefits.
These logistics nodes interact among them and facilitate the flow of goods and passengers by using the existing local network that includes a railroad and a road and highway system.
The small size of Panama allows a close interaction among different assets: seaports, airports, railroad, special economic zones and the local market. This condition facilitates the establishment of specialized and dedicated areas for warehousing and other third-party logistics operations that leverage the accessibility to world class transportation services and trading tradition.
Logistics parks are being developed as a new model of logistics integration in Panama where specialized operators take advantages of the existing platform. Other potential areas are being promoted and segregated to provide business opportunities and to attract new companies to set up operations for storage and distribution in the country.
Investment Opportunities
One of the best opportunities is the construction and development of a new Roll On Roll Off (Ro/Ro) port in Corozal, owned by the Panama Canal Authority (ACP). Although, this project is on hold, it represents one of the top forthcoming opportunities.
The new international airport of Tocumen is in the process of development and promoting a free trade zone located at the cargo terminal. The plan to develop a new cargo terminal with value added logistics. The government has been looking for an international operator, but still in the process.
Panama´s economy continues to be strongly connected to the maritime industry, between the Canal, ports and other connected activities it constitutes about 35% of the country´s GDP. Consequently, some opportunities are:
Oil and LNG terminals for ships crossing the Canal

Ship and yacht repairs

Ship and yacht management from any free trade zone

Ship and yacht building, under incentives granted by law 52 of 2016

P&I and ship insurance services provided from Panama under Law 52 incentives

Ship Financing services and structures organized from Panama under Law 52 incentives

Marinas
If you want to Set Up an Operation in Airports, Ports or Logistic Services, the BusinessPanama Group has licensed real estate agents, investment advisors and we work closely with Pardini & Asociados, a law firm with 40 years of experience for all legal matters to assist you on all your business needs.
The BusinessPanama Group provides a convenient One Stop Shop offering the services of
Setting up the company or branch

Locating office and living premises in Panama City for the company and its executives

Setting up all operations, contracts, permits, etc.

Accessing special tax incentives

Applying for visas, work and residence permits

Relocation services

Others
For more information, please contact us.