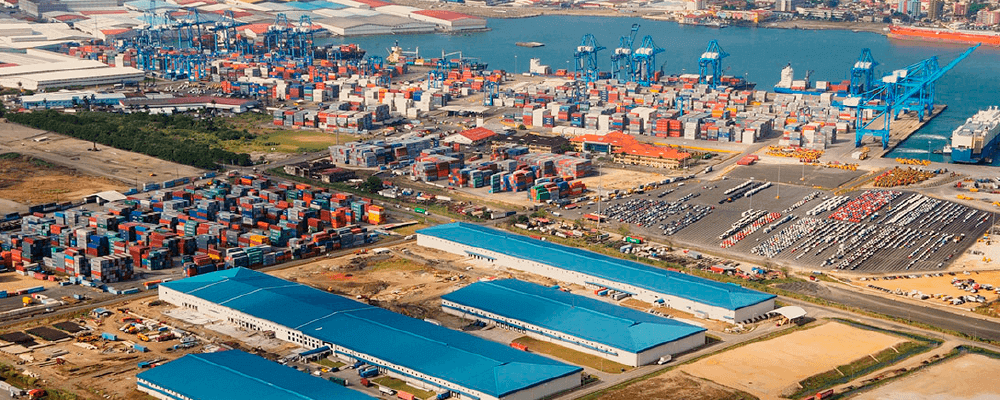 Colon Free Trade Zone
Known as the World's second largest Free Trade Zones, the Colon Free Trade Zone is considered as Panama's duty-free heaven. With over 3000 companies either represented or operating on its complex of more than 1065 acres, and a massive turnover of US$19 billion per year of imports and exports move in and out. Everything from the latest electronics from Japan, silks from Italy, designer perfumes from France, clothing, jewelry, computers, appliances and just about anything else you can think of from around the world, all at bargain-basement prices, you can find it at the CFZ straight from the factory, 
The Colon Free Zone (CFZ) began operations in June 1948, in a segregated area of 35 hectares, adjacent to Downtown Colon. It boasts a strategic location at the Atlantic entrance to the Panama Canal, and only 90 kilometers from Panama City. Its strategic location has helped it become the second largest Free Zone in the world, after Hong Kong.
It is an international hub for import/export and storage operations.
The main products imported by Colon Free Zone are pharmaceuticals and chemical, textiles, machinery and electrical, shoe wears and head wears. These products have mainly been imported from China, Singapore, United States, Taiwan and Mexico. These products are re-exported to the Latin American market, mainly to Venezuela, Colombia, Puerto Rico, Panama and the Dominican Republic.
The existence of modern shipping ports with modern facilities, large facilities for containers, direct access by the Pan American highway, air and rail access transporting containers from the Pacific Ocean to the Atlantic Ocean daily, makes the Colon Free Zone the best place to invest for its many advantages over other areas free in the world.
Permitted Activities
Exportation

Re-exportation

Importation

Manufacture

Sale, commercialization and distribution

Refining and processing of goods.

Operations, transactions, negotiations or incidental activities appropriate to establishment and operation of international free trade zones.
Immigration Incentives
Expedited migratory procedures are granted for foreign executives and investors.
Ways of Establishing Operations
Operation Permit.

Representation Agreement.

Lease of Premises.

Lease of Lot (land).

Public Storage.
Companies operating within the CFZ can also sell to companies based in Panama, as long as the import taxes have been paid on the items sold. Income tax is also levied on items sold within Panama, but people working within the Colon Free Zone must pay income tax to the Panamanian government. As far as export operations are concerned, companies may sell merchandise for export or re-export purposes. They may also charge commission and service charges for storage, moving and packing, as long as the items are being moved abroad.
Additionally, many banks from diverse countries throughout the world that make up the International Financial Center of Panama, more than 10 participate in the financial activity of the Colon Free Trade Zone from their offices and branches located within the Free Trade Zone commercial center.
If you want to set up your Colon Free Zone operation, we have licensed real estate agents, investment advisors and we work closely with Pardini & Asociados, a law firm with 40 years of experience for all legal matters to assist you on all your business needs.
The BusinessPanama Group provides a convenient One Stop Shop offering the services of
Setting up the company or branch

Locating office and living premises in Panama City for the company and its executives

Setting up all operations, contracts, permits, etc.

Accessing special tax incentives

Applying for visas, work and residence permits

Relocation services

Others
For more information, please contact us.