Pullmantur includes new routes from Panama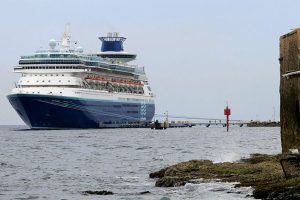 Pullmantur Cruises estimate to grow 30% in the first year of introduction of two new routes from Panama, "all inclusive", the company top executives announced.
The chief executive of the US and Swiss firm, Richard Vogel, said at a press conference on board the cruise Monarch, that from this October 4, the permanent cruises from Colon to Cartagena (Colombia), Aruba, Bonaire and Curacao are reseted. 
Also Jamaica, Limón (Costa Rica) and the Dominican Republic.
He clarify that, so far, its expansion plans in Latin America do not include Cuba, as they are emphasizing a market where ports of call does not require a visa for passengers.
Vogel estimated that this first year, the contribution to the Panamanian economy will be about $ 20 million.
Meanwhile, the Venezuelan Alejandro Páez, manager of the company in Latin America, stressed that the bet to Panama obey  "the connectivity that gives us the 'hub of the Americas' Copa Airlines, the facilities that the Panamanian Government gives us and the support of the Tourism Authority. "
Páez added that in May, the cruise Zenith will join the "Caribbean legendary" route, that comes to replace the one that used to departure from La Guaira (Venezuela), "with such success that it is already sold until Easter 2018".
According to what is estimated by entrepreneurs, in the remainder of the year, 9,000 Panamanians were loaded and in 2017 it will rise to 12,000 travelers in this country.
Pullman Cruises executive Jose Blanco, said that the company is determined to strengthen the Latin American market, which represents 40% of its revenues, and therefore have expanded their sales force in the region.
"Despite the economic downturn, we know that is a big market."
Source: Panama Today