Panama will host Expo Marketing
Posted on 2018-04-25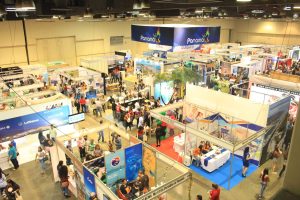 Panama will host EXMA – Expo Marketing, an event that brings together the best exponents of marketing, business and commercial strategies in Latin America. The central theme of the first edition of the important platform is "The Marketing Economy", a topic to be discussed by ten renowned international experts who will share their experiences of success and the latest in global trends. Among the main exhibitors are: Dhiraj Mukherjee, from India, co-founder of Shazam, leading mobile phone application for the identification of music, who will address the issue of entrepreneurship.
In addition, Doug Lipp, from the United States, former Director of Disney University, will talk about customer service; JJ Delgado, from Spain, Former Director of Amazon Europe, who will discuss the latest trends in e-commerce and David Castejon, from Argentina, who will provide an update on Experiences Marketing.
To this group will be added other outstanding speakers who have traveled through the hands of EXMA countries such as Colombia, Mexico, Ecuador, Bolivia, Peru and now, Panama. "We will support any event related to issues related, in one way or another, to tourism and from which we can take advantage of the development of the sector," said the administrator of the Tourism Authority of Panama (ATP), Gustavo Him , who at the same time described as positive the initiative of EXMA, the largest and most influential marketing platform in Latin America, to hold this meeting in our country, which will bring together 10 international experts, who will present their experiences in this field.
For its part, Helena Villanueva, Director of EXMA Panama, commented, "We are happy to bring high-level updates to professionals and decision makers in the field of marketing and business in Panama and Central America, by joining them to the network of more than 25 thousand people. who have lived the EXMA experience in seven countries of the continent". EXMA PANAMA 2018 has the support of the Tourism Authority of Panama, Copa Airlines and MasterCard, an event that seeks to position our country as a key meeting point for marketing and business professionals in the region.
Source: AN Panama