Panama seeks to attract Amazon, Meta and Motion Picture Association
Posted on 2022-06-13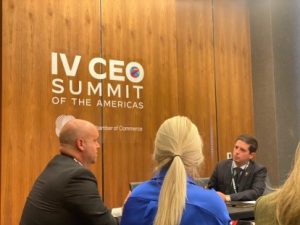 Panama is taking advantage of the IX Summit of the Americas to attract foreign direct investment, and this time the Minister of Commerce and Industry (MICI), Federico Alfaro Boyd, met with senior executives of the Amazon Web companies Service (AWS), Meta Platforms, Inc. (Meta), GlaxoSmithKline (GSK) and the Motion Picture Association (MPA), where the advantages of the country to invest were presented.
In the meeting with the representatives of AWS, Minister Alfaro discussed the possibility of generating joint initiatives that support the Panamanian entrepreneurial ecosystem, while presenting the opportunities offered by the country for its investors to establish a regional distribution center.
He also held a meeting with the Motion Picture Association (MPA), an organization that protects the film, television and streaming industry, and promotes the creative economy around the world, which is made up of major production houses such as Netflix, Paramount, Warner Bros, Disney, Sony Pictures and Universal Studios.
During the visit, the incentives that Panama offers for this type of investment were presented as part of the strategy to position itself as the cinematographic hub of the region. "Likewise, our interest in training personnel so that, beyond being the venue for these productions, our talent is part of them," said the minister.
Then a meeting was held with directors of Meta, a company that develops Facebook, among other social networks and metaverse, in order to seek collaboration in electronic commerce.
Likewise, a meeting was held with Damion Potter, former United Kingdom ambassador in Panama and now head of Government Affairs of the British firm GlaxoSmithKline (GSK), one of the leading companies in pharmaceutical research and health care.
In this regard, the head of Commerce and Industries stressed that all these approaches will contribute in the short, medium and long term to attract more foreign direct investment to promote economic reactivation and the generation of better opportunities for Panama.