Panama Pacifico airport to double capacity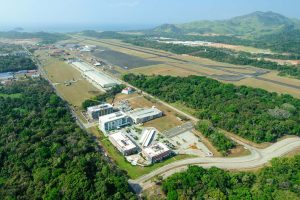 The Panama Pacifico airport terminal will double its capacity over the next three years to attract more budget airlines and charter flights.
The $9.1 million project is part  of a master plan  developed by the administration of  of Tocumen, S.A., which oversees the country's airports, The plan will increase the number of ticket counters from three to seven and expand the areas for passengers and immigration.
It  also calls for the installation of luggage carousels and upgrading the runway to meet international standards.
This includes improving the security fence around the airport, a contract that has already been awarded for $181,990.
The contract for expanding the airport will be tendered on Oct. 23.
Currently, the budget carrier Viva Colombia operates two flights a day from Panama Pacifico, which is located at a former US air force base.
In the first eight months of this year, the facility handled 85,598, a 6.3 decrease from the same period of 2015.
Rosa Muñoz, Tocumen's regional operations manager, said the facility "has exceeded expectations" and that it's popularity has prompted the decision to invest in its expansion.
The use of the airport is expected to increase even more once the fourth bridge over the Panama Canal is built, making it easier to get to from Panama City.
Several charter operators from Ecuador, Colombia and El Salvador have expressed interest in using the airport.
It is the country's third-busiest, after Tocumen International Airport and Enrique Malek Airport in David.
Source: NewsRoom Panama