Panama and Puerto Rico: Cooperation in Education and Commercial Exchange

Posted on 2018-09-05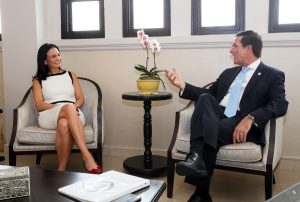 In follow-up to the meeting of President Juan Carlos Varela with the Governor of the Commonwealth of Puerto Rico, Ricardo Antonio Roselló, the Vice President and Chancellor Isabel de Saint Malo de Alvarado received the Secretary of State of Puerto Rico, Luis Gerardo Rivera Marín, in a meeting focused on forging cooperation alliances in educational and technological matters, and strengthening commercial ties. In order to expand the educational exchange, the Panamanian chancellor informed her that she will be joining Puerto Rican students in the Student Mobility Program, in its next edition. This initiative is part of the cooperation offer of Panama and consists in granting scholarships to international students to study a semester in Panamanian universities. Thus, the cultural and educational exchange is promoted and the supply and academic institutions of Panama are possessed.
Likewise, alliances framed within the strategy of Scientific and Technological Diplomacy and Innovation will be explored, which will make it possible to take advantage of the Panamanian platform.
Rivera Marín extended his gratitude to the Republic of Panama and its people for the support received in the face of the impact of Hurricanes Irma and María, which helped to cope with the devastating effects. Through the Panama Coopera National Plan and the humanitarian users of the next CLRAH, Panama sent containers to Puerto Rico with dry food, diapers, cleaning supplies and water.
In regional matters, they referred to the humanitarian and political crisis that Venezuela is going through, agreeing on the importance of finding a peaceful solution to both situations.
Source: Ministry of Foreign Affairs