LNG transit exceeds expectations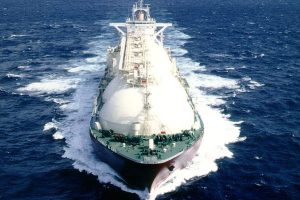 The transit of Liquefied Natural Gas (LNG) during the first months of operation of the third set of locks totaled 1.5 million tons, exceeding initial forecasts of the Panama Canal Authority (ACP), these figures were boosted for the production of shale gas in the United States (USA) and the lifting of a ban that ruled for 40 years, which allowed the country to export oil for the first time in decades.
Another additional transits recorded during the last fiscal year were the first shipments of oil through the Canal Aframax and Suezmax ships.
The administrator of the ACP, Jorge Quijano, said that "what we expanded with the opening of the last fiscal year was only the beginning of an ambitious plan to strengthen Panama's position as a logistics hub of the Americas Channel".
Quijano said that despite "the slowdown in international maritime trade, we have registered one of the highest annual tonnages from the opening of the Canal 102 years ago."
In fact, during the recently concluded fiscal year (October 1, 2015 to September 30, 2016), the Panamanian waterway recorded the third best annual tonnage of its history with 330.7 million tons PC / UMS (volume measure Universal Systems Tonnage Panama Canal).
While a total of 13,114 ships transited the Panama Canal during the period. Of these, 238 were neopanamax ships transited the Canal expanded during the first three months of operation, representing 18.2 million PC / UMS tons.
So far nine neopanamax line services have been redirected through the new locks, most commercial route from Asia to the US East Coast Next month, it is expected that an additional service neopanamax follow suit, reflecting further benefits provided by the new route, detailed a report by the ACP.
Container ships remain the most important segment with more than 36% of the total charge that passed through the Panama waterway, representing 119.6 million PC / UMS tons, including 13.4 million PC / UMS tons that passed through the expanded Canal.
The other segments were the dry bulk tonnage (65.6 million PC / UMS tons), tankers (55.0 million PC / UMS tons) and carries vehicles (46.7 million PC / UMS tons).
The ACP Group also reported that the Unidos por el Canal (GUPC) indicated complete all outstanding at the end of this year.
The work has been organized into three main areas: civil works, electromechanical works and control systems. As of September 30, an increase of 48% in the Defects Program and Minor Works Earrings (Somwd, for its acronym in English) in the locks of Cocolí and 51% in Agua Clara was recorded.
Source: Capital Financiero