ACP plans to build a visitors center in Cocolí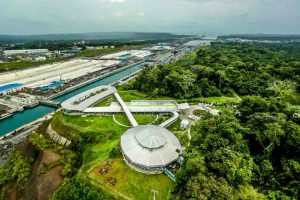 The project is in the stage of design and cost evaluation
The number of people who come to the visitor centers Canal increases each year during 2015 and received more than one million visitors.
Sixta Diaz, administrator of the Canal Visitor Center, said that in the locks of Agua Clara, the influx increased since the opening of the expansion of the waterway.
"So far this fiscal year, which ends next Sept. 30, the centers have received more than 940,000 visitors," said Diaz.
In the case of Miraflores Visitor Center more than 3,000 people daily, which is why it is constantly receiving maintenance. This center is open every day of the year from 9:00 A.M. to 5:00 P.M.
Visitor centers Panama Canal are sites of tourist and historical reference country. 75% of visitors are foreigners and 25% Panamanian.
So it is not surprising that after the inauguration of the new locks the Panama Canal Authority (ACP) is contemplating the construction of a new visitor center in Cocolí, projects at the stage of design and cost evaluation .
Diaz said that while building a temporary area will be enabled to receive visitors, so studies are conducted to determine its mode of operation.
"Once will be decided an information campaign for the public to visit the new locks," he said.
Diaz added that is considering this new center is different from the other two existing ones.
Meanwhile, Mario Goti, specializing in Corporate Image of the ACP, said that soon the Miraflores Visitor Center will feature a theater for film screenings with the highest standards of the film industry.
The first film will be in theaters on production filmed in Panama Canal, which will be screened in 4K and 3D IMAX format.
"The film tells the story of the Panama Canal, the Panamanian nation and its interaction with this work, including the expansion of the Canal and the inaugural transit, narrated by renowned actor Morgan Freeman," revealed Goti.
It is estimated that the theater is in operation by 2017, as currently is being completed the design phase and infrastructure adjustments are made in the project area.
Source: Capital Financiero